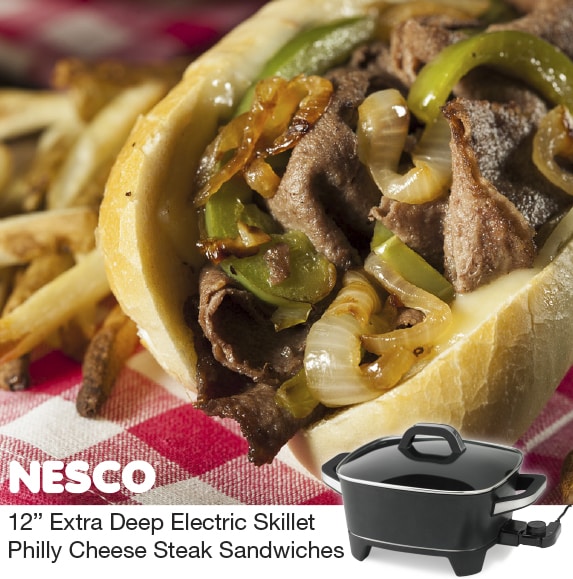 Who doesn't love a really good Philly Cheese Steak Sandwich? The 12″ Electric Skillet by NESCO® makes them simple and tasty. NESCO® Skillets are perfect for countertop cooking at home, in your RV or camper.
1 tsp vegetable oil
2 cups thinly sliced onion
2 red or green bell peppers, cored, seeded and thinly sliced
6 oz provolone cheese*
4 oval sandwich rolls, sliced in half
1 lb thinly sliced beefsteak (eye of round, or sirloin)
1/2 tsp salt
1/4 tsp black pepper
Preheat Nesco® 12 inch Electric Skillet to 300ºF. Add oil and stir to coat skillet bottom. Add onions and peppers, cook for 2 minutes. Add water and stir until onion/pepper mixture is soft and water has evaporated (about 3-4 minutes).
Remove mixture and keep warm. Warm buns until lightly toasted. Place 1 oz cheese on each warm bun.
Increase heat in skillet to 350ºF. Season meat with salt and pepper. Sear each piece of meat 1-2 minutes per side until browned. *Note: overcooking meat will cause it to be tough.
Place meat on cheese and top with onions and peppers.
Optional: May use American, cheddar or mozzarella cheese if desired.