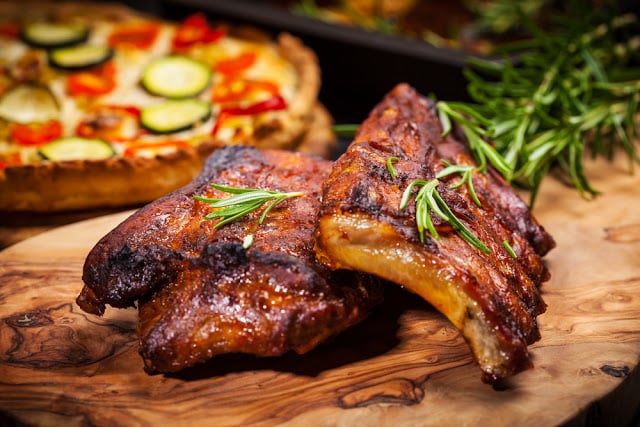 Everyone's favorite, Barbecued Beef Short Ribs are made simple with a versatile NESCO® Pressure Cooker. This recipe combines brown sugar and lemon juice to make a tangy yet sweet mouthwatering citrus glaze.
Barbecued Beef Short Ribs
– Pressure Cooker
6 lbs short ribs, cut in pieces
3 Tbsp bacon fat (or vegetable oil)
2 tsp salt
2 Tbsp green pepper, chopped
1/4 cup onion, chopped
2 cups ketsup
2 tsp celery seed
1/4 cup brown sugar
1/4 cup lemon juice
1 Tbsp dry mustard
2 cups water
Place removable Cooking Pot in Main Body.
Add fat or oil. Plug cooker into standard outlet.
Press "BROWN" button on Control Panel of
NESCO® 6 Qt. Digital 3-in-1 Pressure Cooker
. The light will start flashing and display will show "0.0". Leave lid off while browning.
Press 'START/STOP' button to begin heating. Indicator light will stop flashing. Preheat 1 minute.
Add ribs and begin browning. When meat is browned, press START/STOP button and add remaining ingredients.
Place lid on cooker. Turn counter-clockwise until it locks into place and Locking Pin 'clicks' into place.
Turn Pressure Regulator Knob to "Pressure" or "Seal".
Then set Pressure Button on control panel on "LOW". Set desired cooking time by pressing the 'LOW' button once for each minute or hold down continuously until desired time is reached (50-60 minutes).
Press START/STOP button to begin cooking. Indicator light will stop flashing. Cooker will begin to count down (in minutes) and Floating Valve will rise after appropriate cooking pressure has been reached.
When time control reaches zero, cooker will beep 3 times and switch to the WARM setting automatically.
After cooking is finished, press 'START/STOP' button to make sure unit is completely off. Turn Pressure Regulator Knob to "STEAM" or "VENT" in short bursts and allow pressure to release.
Remove ribs. Mix 2 tablespoons flour and 1/4 cup cold water for each cup liquid. Gradually stir into broth. Cook until thickened, stirring constantly.
Turn cooker off and unplug from outlet.