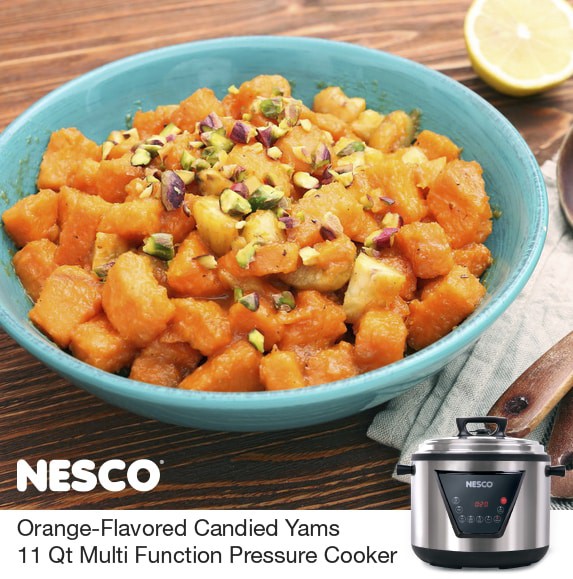 If you like yams, you'll love this recipe for Orange-Flavored Candied Yams made in your NESCO Pressure Cooker. Grated orange zest and brown sugar add just the right amount of sweetness and zing.
Your Key Ingredient:
Grocery Ingredients:
1 cup orange juice
2 large sweet potatoes (yams)
Salt, to taste
1/2 cup brown sugar
1 tsp grated orange zest
2 Tbsp butter
Instructions:
Pour orange juice in NESCO® Pressure Cooker.
Peel sweet potatoes and cut in half lengthwise. Arrange in a steamer basket (if available) and sprinkle with salt, brown sugar, and orange zest. Dot with butter.
Lower the steamer basket into the pressure cooker. Lock the lid in place and turn regulator knob to SEAL. Program for HIGH pressure and cook for 8 to 10 minutes.
When cooking is complete, use the Quick or Natural release method and open lid. Lift out sweet potatoes. Boil down sauce until thickened and pour over sweet potatoes.