Try this healthy, sweet treat for the summer heat
In Wisconsin, we have a limited amount of time when we can get fresh fruit that is grown locally. However, in the summer you can pick your own strawberries, raspberries, cherries, blackberries, and blueberries, and farmers markets are open. A problem some have is picking too much fruit.
Dehydrator fruit rollups, made with a NESCO dehydrator, can be made from almost any fruit, so you can use your extra berries for a healthy and fun snack. With kids home for the summer, healthy snacks are as important as ever.
Making fruit roll-ups with NESCO's Fruit Roll Sheets in your own dehydrator is great for many reasons. For starters, you control what goes in. Store-bought fruit roll-ups have unnecessary food additives such as sweeteners, artificial colors, and preservatives. With the control of what goes in, dehydrator fruit roll-ups are a much healthier option. You also choose your own portion sizes.
Dehydrator fruit roll-ups also help reduce food waste. If you have more fruit than you can eat before it goes bad, it can be used to make fruit roll-ups. But what about those bananas that are already turning brown? They can be used for more than just banana bread. An additional benefit of dehydrator fruit roll-ups is they last longer than fresh produce, so you can enjoy them for a longer period of time.
How do you make dehydrator fruit rollups?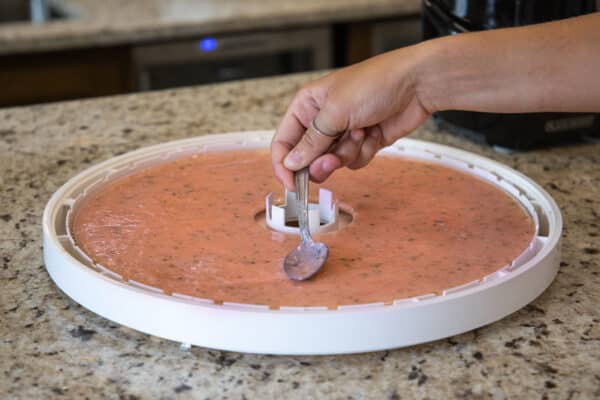 To begin making dehydrator fruit roll-ups, blend any fruit you want to include into a puree. Each Fruit Roll Sheet can hold up to 3 cups of pureed fruit. Once pureed, pour the fruit onto the Fruit Roll Sheets and spread evenly. The fruit puree should be between 1/4" and 3/8" thick. Dry the fruit according to the specific instructions of your dehydrator. The Large Fruit Roll Sheets fit in NESCO 80 and 1000 Series Dehydrators. The Fruit Roll Sheets have a 'no-spill lip' so liquids like soups and sauces can be dehydrated too.
After dehydrating the fruit puree, wait until the fruit roll is at room temperature to remove from the Fruit Roll Sheet. For storage, individually wrap each fruit roll and keep in an airtight container. These individually wrapped fruit rollups make for an easy on-the-go snack! With the high-quality Fruit Roll Sheets being reusable, hand-wash only, and limited packaging on the fruit roll-ups, this snack is also eco-friendly.
Quick tip: Dehydrator fruit roll-ups make fabulous cocktail garnishes! One of our favorite recipes is a grapefruit and mint puree dehydrated into a fruit roll. Using this as a garnish on a vodka seltzer sounds pretty good to us on a hot summer day. Dehydrator fruit roll-ups are very versatile. They make a great summer treat for both children and adults.
NESCO: Your Key Ingredient
At NESCO, we believe life is an occasion worth celebrating. We're dedicated to being Your Key Ingredient in those celebrations by making cooking enjoyable again with our complete line of innovative small kitchen appliances and accessories. NESCO began as the National Enameling and Stamping Company and created the first Roaster Oven in 1931. NESCO is currently headquartered in Two Rivers, Wisconsin.
To purchase NESCO products visit nesco.com or for more information call 1-800-288-4545.