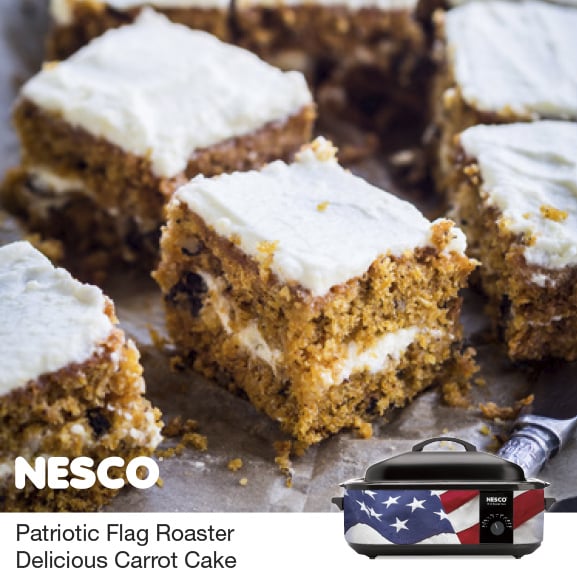 This delicious carrot cake is sure to impress your friends and family with it's
secret ingredient of crushed pineapples. Baking the cake in your Patriotic NE
SCO® Flag Roaster will make any get together extra special, as well as make your cake nice and moist.
Carrot Cake
2 cups granulated sugar
1 tsp vanilla
4 eggs
1 cup cooking oil
3 cups carrots, grated
1 cup crushed pineapple, drained (optional)
2 cups all-purpose flour
1 tsp baking soda
1 tsp salt
2 tsp cinnamon
1 tsp nutmeg
1/4 tsp cloves
Preheat NESCO® Roaster Oven to 375º F.
Beat sugar, vanilla, eggs and oil in large mixing bowl. Mix in carrots, flour, spices and pineapple. Beat on medium speed for 2 minutes. Pour into greased 13 x 9 cake pan.
Set on rack in cookwell and bake at 375F for 50 to 60 minutes.
Makes 30 pieces.
Frosting
1/2 cup butter, softened
8 oz cream cheese, softened
3+ cups powdered sugar
1 Tbsp lemon juice
Cream butter and cream cheese. Beat in remaining ingredients until light and fluffy.