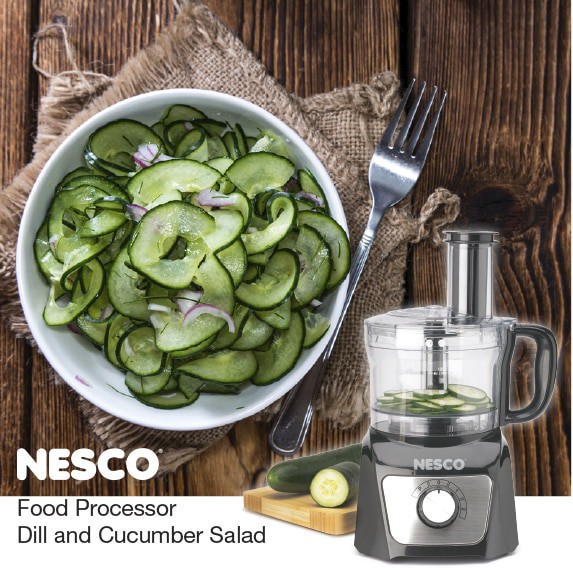 The NESCO 8 Cup Food Processor is the ideal helper when it comes to making this Dill and Cucumber Salad. It slices cucumbers evenly and fast, cutting preparation time to a fraction of hand slicing. The sweet and sour dill dressing is perfect with the cucumbers and will surely be loved by everyone.
Ingredients
4 large cucumbers
1 onion
1 tablespoon dried dill weed
1 cup white sugar
 1/2 cup white vinegar
1/2 cup water
1 teaspoon salt (optional)
Directions
Using the slicing blade, slice cucumbers in the NESCO Food Processor. Remove to a large bowl. Next cut onion into chunks to fit into feed tube and slice in Food Processor. Place in bowl with the cucumbers. Combine cucumbers, onions and dill. In a medium size bowl combine sugar, vinegar, water and salt; stir until the sugar dissolves. Pour the liquid mixture over the cucumber mixture. Cover and refrigerate at least 2 hours before serving.