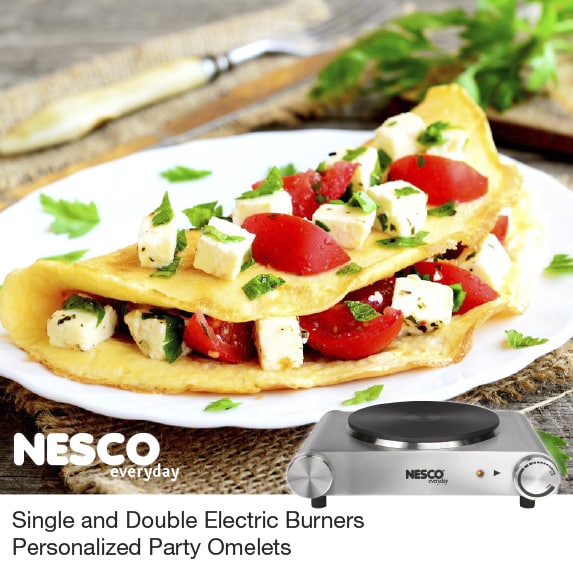 For your next party treat your guests to a personalized omelet made simple with your portable NESCO Electric Burner. Here is a simple omelet recipe and a list of ingredients for the filling. The possibilities are almost endless. Choose the ones that are easiest for you, and ones you feel your guests will love.
Simple Omelet Recipe:
2 Eggs
1 Tbsp. of Water (to help makes eggs fluffy)
Dash of Salt and Pepper to Taste
1 Tsp. of Butter
Beat eggs, water, salt and pepper in a bowl
Heat a 7 to 10-inch skillet over your NESCO Electric Burner and add butter
Pour in beaten egg mixture into pan and cook until edges start to set. Push eggs gently with spatula and tilt pan to let uncooked egg mixture flow onto open pan area. Once eggs look cooked add approximately 1/4 cup of combined ingredients of filling to one side of omelet. Fold other side of omelet over filling and gently slide onto plate.
If desired top with additional ingredients from the following list.
Suggested filling ingredients:
– Shredded cheese
– Cooked spinach
– Baby spinach leaves
– 
Cooked diced onions and/or mushrooms
– 
Cooked chopped red or green peppers
Let us know what are some of your favorite omelet fillings.