Pumpkin Spice Muffins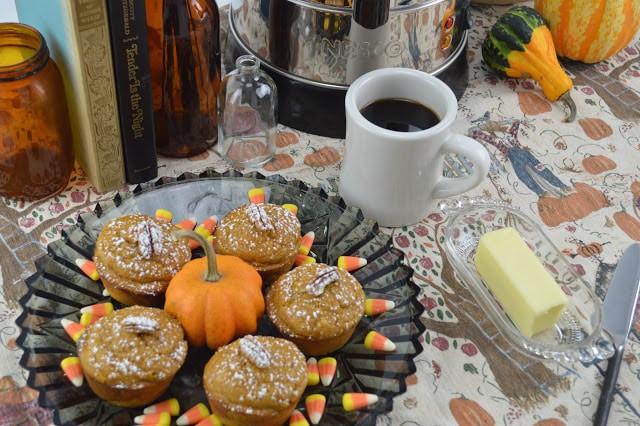 Muffins:
1 ½ cup AP flour
¾ cup sugar
3 tsp. baking powder
2 ½ tsp. cinnamon
¾ tsp. nutmeg
¾ tsp. salt
⅛ tsp. ground cloves
¾ cup butter, softened
1 ¾ cup pumpkin puree
¾ cup evaporated milk
2 eggs
2 ½ tsp. vanilla
Crumb Topping:
⅓ cup light brown sugar
¼ cup all-purpose flour
½ tsp. ground cinnamon
1 Tbsp. butter, melted
Place wire baking rack in the bottom of your
Nesco Roaster
, making sure the handles are facing upwards for easy grabbing. Preheat Roaster to 400°. Grease 12 muffin tins well.
Sift the dry ingredients and cut in butter with a pastry blender (two knives work well).
In a separate bowl, mix the pumpkin, evaporated milk, egg and vanilla. Combine with dry ingredients and fold very gently just until blended. Do not overmix.
Pour mixture evenly into muffin tins. Blend together the crumb topping and sprinkle over muffin batter.
Bake in your Roaster for 20-25 minutes. Decorate with powdered sugar or pecans.