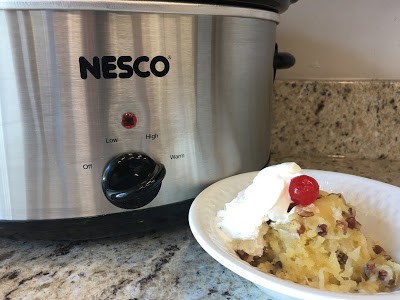 Pineapple Coconut Cake
Your Key Ingredient:
Grocery Ingredients:
Cake
1 (16.5 oz) package yellow cake mix
1 cup water
3 eggs
½ cup melted butter (1 stick)
1 cup drained crushed pineapple from a 20 oz can (save juice and remaining pineapple for the glaze)
1 cup coconut
¼ cup chopped pecans
Glaze
1 ½ cups powdered sugar
Remaining juice and pineapple from the above can of crushed pineapple ( ¼ cup melted butter ½ cup coconut)
¼ cup chopped pecans
Instructions:
Add the cake ingredients into a large bowl and whisk until the batter just comes together. Do not over mix – some little lumps of cake mix are fine.
Spray the NESCO®  Slow Cooker with non-stick spray and pour in batter. Cover and cook on HIGH for 2 hours, keep the lid.
After 2 hours, turn off the Slow Cooker and make the glaze. Add the powdered sugar, remaining pineapple, melted butter, coconut, and chopped pecans. Whisk until a sauce forms.
Pour mixture over the warm cake. Let the cake sit for 5 minutes before serving.