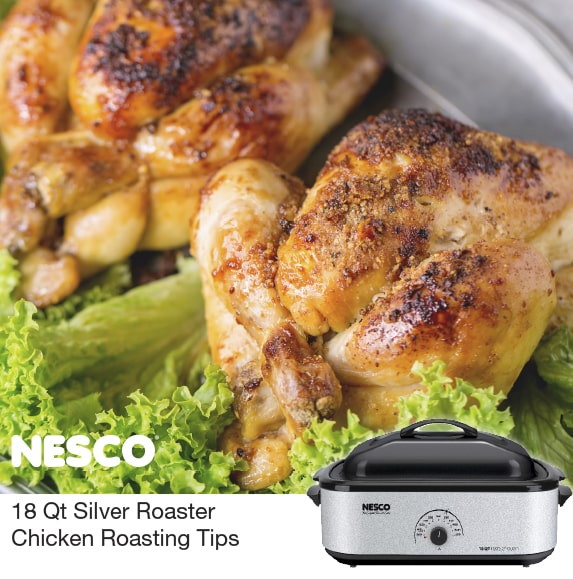 There are many great tips when roasting chickens in your NESCO 18 Quart Roaster oven. Here are a few to try.
1. Cook more than one chicken at a time. Your 18 Quart Roaster Oven can hold up to the chickens at a time. You can have one now and save the others for various recipes that call for cooked chicken, like chicken tacos or tasty chicken salad.
2. Some people like to tie the wings and legs down then cook their whole chicken breast side down for about twenty minutes. Then they turn it breast side up and finish cooking until done. It helps make for juicer white meat.
3. Try rubbing dried herbs under the breast and leg skin for a wonderful flavor. To do so take your fingers and very carefully separate the skin from the meat leaving skin attached in the back. Then sprinkle in and lightly spread your favorite dried herb over meat. Dried tarragon is great. Press skin back over meat. Tie legs together, roast and enjoy.
Try some of these tips and let us know what you think. Also let us know some of your favorite tips.