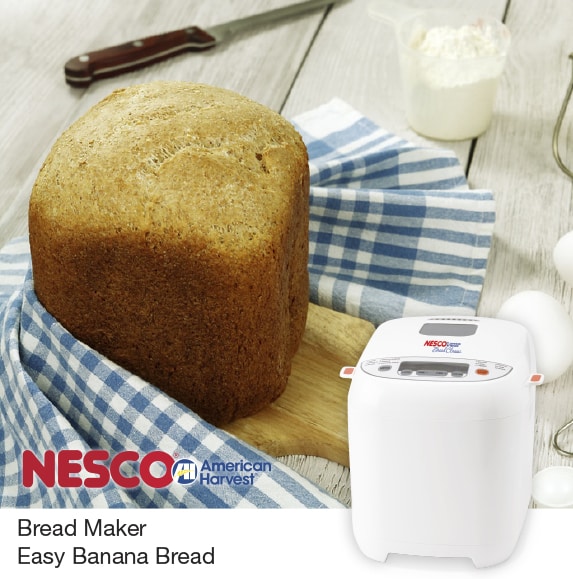 Make homemade bread without all the work. Just add the ingredients and let your NESCO/American Harvest Bread Maker do all the work. This recipe for Banana Bread is so simple and tasty, you'll want to make it over and over again.
Your Key Ingredient:
NESCO/American Harvest Bread Maker
Grocery Ingredients:
2 large eggs
1/3 cup butter
1 oz  milk
2 bananas, mashed
1 1/3 cups bread flour
2/3 cup sugar
1 1/4 tsp baking powder
1/2 tsp baking soda
1/2 tsp salt
1/2 cup chopped nuts
Instructions:
Put the wet ingredients in the bread pan.
In a mixing bowl, mix the dry ingredients and then add to the bread pan.
Press Menu button; Select Program #4. Press Crust Color button to the desired crust color. Press the Start-Stop button or select the delayed start button.
Note: Use a spatula to scrape sides of the pan after mixing for 5 minutes to remove flour pockets.