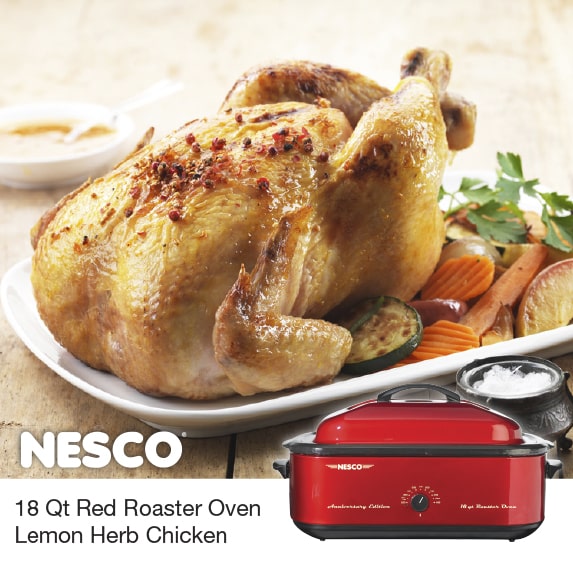 The NESCO 18 Qt. Roaster Oven is ideal for making tender, juicy chicken. This recipe uses lemon juice and a touch of thyme to give your chicken a bright fresh flavor in every forkful.
Your Key Ingredient:
Grocery Ingredients:
3 lb whole, broiler-fryer chicken
1/2 tsp thyme
1/4 tsp onion powder
1/4 tsp garlic powder
1/4 tsp pepper
1 lemon, sliced
2 Tbsp butter or margarine, melted
Juice of 1 lemon
Instructions:
Sprinkle inside of chicken cavity with thyme, onion powder, garlic powder, and pepper. Place lemon slices inside cavity.
Place on rack in NESCO® Roaster Oven. Brush with melted butter and drizzle with lemon juice.
Cover and cook at 375°F for 1 hour 15 minutes, or until meat thermometer inserted in breast registers 185°F. Serves 4 to 6.
SLOW COOK: Prepare recipe as directed. Cover and cook at 225°F for 6 to 8 hours.