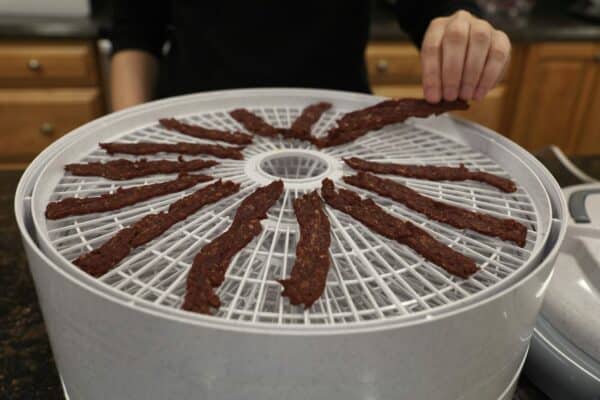 Our smoky Barbecued Jerky recipe is made for adventurers on-the-go and can be prepared right in your NESCO Dehydrator. A combination of cayenne pepper and Dijon adds just the right amount of kick for the perfect chewy snack. Don't get caught hungry mid-hike. From the trailhead to the mountain range, this recipe will satisfy you every step of the way.
Your Key Ingredient:
Grocery Ingredients:
2 Tbsp brown sugar
2 Tbsp white sugar
1 Tbsp oil
1/4 cup minced onion
1 cup beer
2/3 cup ketchup
2 Tbsp cider vinegar
2 Tbsp Worcestershire® sauce
2 Tbsp ground ginger
1 tsp salt
1 tsp minced garlic
1 tsp Dijon mustard
1 tsp liquid smoke
1/2 tsp freshly ground black pepper
Dash of cayenne pepper
1 lb meat strips
Instructions:
Combine sugars, oil, and onion in a pan. Heat and stir.
Reduce heat, cook until onions caramelize. Add beer. Simmer. Cool.
Mix remaining ingredients together with the exception of strips. Allow at least 15 minutes for flavors to blend, then puree in blender.
Add strips. Marinate at least one hour. For longer marinating time, place in refrigerator in a covered container or in an air-tight plastic bag.
Remove from marinade and place in your NESCO® Dehydrator on dehydrator trays at 145° F. Dry approximately 6 to 12 hours until chewy.