Green Chile Pork Carnitas are the perfect way to get the weekend started. Infused with tomatillos, peppers, and Mexican spices, you might want to make these on Friday and Saturday. Count on your NESCO Pressure Cooker for juicy, tender pork every time. We recommended topping with queso fresco, fresh cilantro, and a squeeze of fresh lime juice.
Your Key Ingredient:
Grocery Ingredients:
2-3 lbs pork shoulder, cut into 6-8 pieces
2 Tbsp olive oil
1 tsp salt
1/2 tsp black pepper
1 large jalapeño, seeded and stem removed
1 green bell pepper, seeded and stem removed
1 poblano pepper, seeded and stem removed
1 lb tomatillos, husks removed and quartered
3 cloves garlic, peeled and minced
1 onion, quartered
1 tsp cumin
1 tsp oregano
2 cups chicken broth
2 bay leaves
Toppings
Tortillas (a flour/corn hybrid works best)
Queso Fresco
Red onion, diced
Cilantro, roughly chopped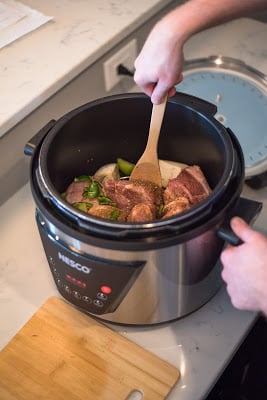 Instructions:
Rub pork shoulder pieces with salt and pepper then place in your NESCO® Pressure Cooker with the olive oil and brown for 2-3 minutes.
Add in jalapeño, green pepper, poblano, quartered tomatillos, garlic, onion, cumin, oregano, chicken broth, and bay leaves.
Mix the ingredients and lock lid. Set to high pressure for 55 minutes.
Do a natural release and then release remaining pressure with a quick release after 10 minutes.
Remove meat from pressure cooker. Take out bay leaves and add broth with peppers to a blender and puree the mixture. This will yield a large amount of green chile sauce.
Shred meat with fork. Mix in desired amount of green chile sauce.
Serve in tortillas topped with crumbled queso fresco, red onion, and cilantro.