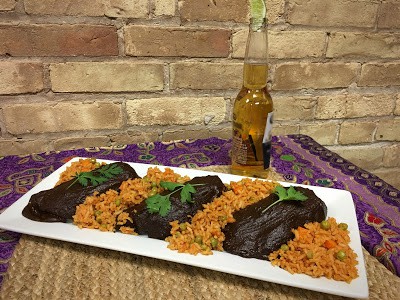 Chicken Mole
Your Key Ingredients:
Grocery Ingredients:
Chicken
6-8 boneless chicken breasts, defrosted
1 teaspoon garlic powder
1 teaspoon poultry seasoning
2 cups water
Mole Sauce
2 Tablespoons vegetable oil
2 cups finely chopped onions
¼ cup chili powder
3 Tablespoons light brown sugar
1 teaspoon salt
1 teaspoon pepper
Pinch of ground cloves
1, 16 oz can diced tomatoes
3 Tablespoons cocoa powder
3 Tablespoons peanut butter
2 cups water
Mexican Rice
2 cups white rice
1 Tablespoon oil
1 teaspoon garlic
1 teaspoon cumin
1 ½ teaspoon salt
16 oz tomato paste
4 cups water
2 cups frozen peas and carrots
Instructions:
Chicken
Add water to NESCO® Pressure Cooker. Place chicken breasts on wire rack in cooker and set regulator knob to PRESSURE. Set Cooker to HIGH temp for 5 minutes and press START. Timer will not begin counting down until ideal pressure is reached.
Ensure that internal temperature of chicken reaches 180°F for doneness. When finished, release the pressure but leave chicken in cooker to keep warm.
Mole Sauce
In NESCO® 8 Inch Electric Skillet, heat oil over medium-high heat. Add onion and cook until onions slightly are browned about 10 to 12 minutes.
Stir in chili powder, brown sugar, cloves and cook for 2 minutes, continuing to stir.
Mix in tomatoes, cocoa powder, peanut butter, and water. Let simmer over medium-low heat for 15 minutes, or until desired thickness is achieved.
Mexican Rice
Preheat skillet to medium-high and add oil. Reduce heat to medium, add rice, stirring constantly until lightly brown, about 3 minutes.
Stir in garlic, cumin, salt, tomato paste, and water. Raise heat to medium-high and bring to a boil. Cover and cook until rice is tender.
Add peas and carrots, and cook for another 5 minutes. Fluff with a fork and serve.