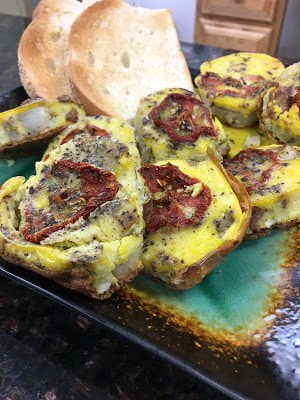 Mother's Day Frittata
Your Key Ingredient:
Grocery Ingredients:
1/2 cup of fresh or fully cooked maple sausage links, sliced and browned
1 cup of diced potatoes, browned until tender
6-8 large eggs
1/3 cup milk
1/3 cup dehydrated mushrooms
1/3 cup dehydrated tomatoes
1 Tbsp of Italian Seasoning
1/2 cup of cheddar cheese
Salt and pepper to taste
Instructions:
On medium heat brown the sausage and potatoes and set aside.
In a separate bowl, whisk eggs and milk together. Add all ingredients to NESCO® 12 Inch Electric Skillet and stir just until everything is mixed well.
Set temperature to medium heat and cook for 5-7 minutes, or until center is firm. Remove from Skillet, cut, and serve fresh.