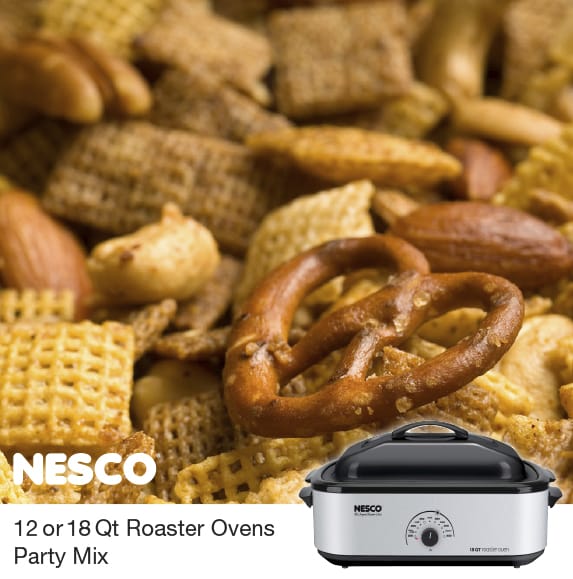 One thing guests love reaching for at a party is a big bowl of party mix. NESCO Roaster Ovens help make it simple and convenient. The possibilities of ingredients are almost endless. Here is a quick recipe along with suggested additions.
10 cups crispy rice squares cereal
10 cups crispy wheat squares cereal
1 cup butter, melted
1/4 cup Worcestershire® sauce
2 cups peanuts
4 cups thin pretzels
Preheat NESCO® Roaster Oven to 300º F. Place cereal in cookwell. Stir butter and Worcestershire® sauce together and pour over cereal.
Cover and bake at 300º F for 45 to 60 minutes. Stir occasionally during baking. Add nuts and pretzels. Cool before serving or storing in airtight container.
Serves 50.
Try one these additions when melting the butter:
• 2 Tbsps. of taco seasoning
• 1 clove minced garlic
After cooling add one or more of the following ingredients for a tastier mix:
• Diced pieces of dehydrate fruits or veggies
• Roasted pecans, cashews or almonds
• Toasted pumpkin seeds
• Coated chocolate bites
• Granola clusters
• Toasted coconut
• Cheese puffs
• Crispy Asian noodle pieces
•
Broken pieces of tortilla chips
Let us know some of your favorite party mix recipes or tasty added ingredients.