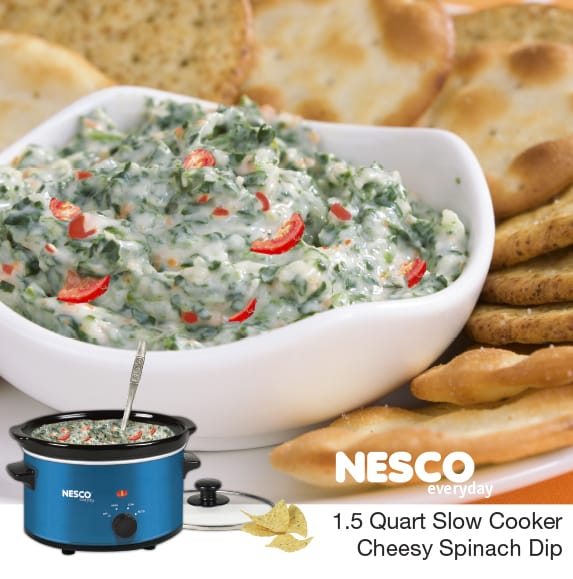 The NESCO 1.5 Quart Slow Cooker is perfect for making Cheesy Spinach Dip and keeping it warm on your party buffet table. To kick your Spinach Dip up a bit simply add the optional chopped Jalapeno peppers.
Your Key Ingredient:
Grocery Ingredients:
8 oz cup Monterey Jack cheese, cut into pieces
4 oz cream cheese, softened
5 oz frozen chopped spinach, thawed & thoroughly drained
1 large tomato, skinned, seeded, chopped
1/2 medium onion, finely chopped
1/4 cup half-and-half
1 whole jalapeno peppers, chopped (optional)
Crackers, cocktail rye bread, or fresh cut vegetables to serve
Instructions:
Set NESCO® Slow Cooker to HIGH. Lightly wipe cook pot with cooking oil.
In mixing bowl, combine all ingredients; stir until well blended.
Spoon into preheated cook pot. Cover; bake 30 to 40 minutes or until center is set and edges are puffed.
When heated, set control to AUTO.
Serve warm with crackers, cocktail rye bread, or your choice of cut fresh vegetables. Serves 8 to 10.
Let us know some of your favorite slow cooker dip recipes!